Volkswagen

Group Japan
Company Profile

Volkswagen

Group Japan
Company Profile
 Company Outline
Trade Name:
VOLKSWAGEN Group Japan KK(VGJ)
Address:
[Head Office]
5-10, Akemi-cho, Toyohashi-shi, Aichi 441-8550, Japan
[Tokyo Office]
Gotenyama Trust Tower 18F
4-7-35, Kita-Shinagawa, Shinagawa-ku, Tokyo 140-0001, Japan
Tel. 0120-993-199 (Volkswagen Customer Center)
[Yokohama Office]
Minatomirai Grand Central Tower 6F
4-6-2 Minatomirai, Nishi-ku, Yokohama, Kanagawa 220-0012, Japan


Capital:
23,174.1 million yen
(100% VOLKSWAGEN AG, Head Office: Wolfsburg, Germany)
Members of Board:
Matthias Schepers, President and CEO
Adam Pasternak, Executive Vice President and CFO
Aiko Kanayama, Auditor
Closing Date:
Dec. 31st
Volkswagen Japan is engaged in the import and sales of Volkswagen cars and parts in Japan and in providing support to the dealers' sales activities via market surveys, advertising and public relations, dealer development, and after service.
The company is headquartered in Toyohashi, which is a prime location for nationwide distribution and activities directly related to the vehicles, such as off-loading from ships, pre-delivery preparation, delivery and after-sales related services. The divisions responsible like Vehicle Logistics, Parts Depot and Technical Service are sharing the facilities with divisions related to indirect operations such as Human Resources, General Service, Accounting & Treasury and IT.
The Tokyo office integrates the divisions of Sales (in charge of the national dealer network as well as sales and product planning and implementing sales policies and systems), Marketing (, which includes Marketing Communications and Retail Marketing), After Sales and Communications (, which handles both internal and external communication), striving for the efficient and timely gathering and dissemination of information.
Volkswagen has been loved in Japan as the "People's Car" brand since 1953, when official imports started.
"People's Car" stands for cars meeting all different needs of all different kinds of customers: Customers longing for a car to go for a drive with friends or for a car to enjoy life with their family, or others just wishing a car for pure fun-to-drive. It is the "People's Car", which fulfills all these wishes and provides an enjoyable car life to many people.
It is also the mission of the "People's Car"  to make advanced technology and quality, known from a handful of high-end models, accessible through a wide model lineup.
At Volkswagen people are always in the center of our thoughts in order to be able to provide cars that become a partner for the people's lifestyle.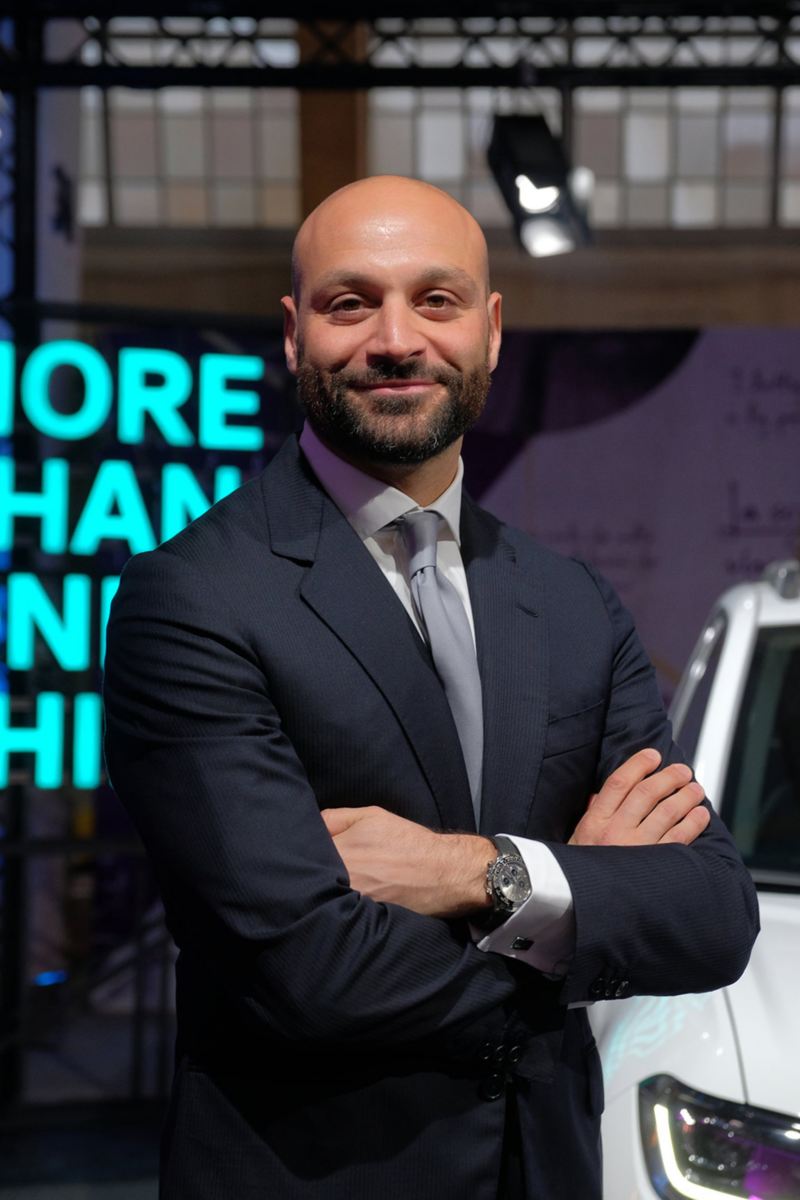 Volkswagen

Dealer Network

Volkswagen Japan has developed an authorized dealer network.
Volkswagen considers the dealerships to be a major stage for satisfying the customers and having them experience the values of the brand during all the different phases from purchase to after-sales service.
In order to provide a standardized high level of customer service throughout the nationwide network sales and service staff at the Volkswagen authorized dealerships is participating in regular trainings ensuring their competence regarding product and technology.
It is to support the customer during the decision to purchase a car by offering valuable information and material as well as by providing direct product experience through test driving.  
Volkswagen is continuously striving to be a brand worthwhile to get the trust of the customer.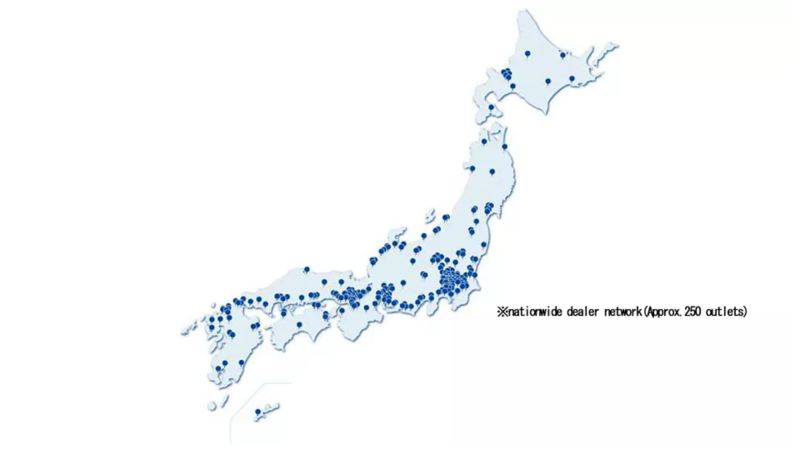 Toyohashi Import Center
The Import Center of Volkswagen in Japan, completed in 1992 at Akemi-cho, Toyohashi City in Aichi Prefecture, is one of the largest import car facilities of an importer in Japan.
The expansive site covers 370,000㎡, 8 times the size of the Tokyo Dome, and contains private wharf, Technical Service Center, car silos and the Central Parts Depot as its major facilities.
The vehicles, assembled at the production plants in the different parts of the world, arrive at Akemi Pier 1 and undergo careful final inspection at the Technical Service Center (TSC), before they are transported to the dealers nationwide.
1950s
1953
● Import of Volkswagen vehicles to Japan starts.
1980s
1983
● Volkswagenwerk AG establishes Volkswagen Asia Ltd. to strengthen import and sales activities of Volkswagen in Japan
1989
● Volkswagen Asia Ltd. acquires the import rights from Volkswagen AG to build a sales and service network in Japan.
● Volkswagen Asia Ltd. changes its name to Volkswagen Audi Nippon KK (VAN) and begins to conduct imports and sales.
1990s
1990
● Purchase of land (178,000㎡) at Toyohashi City, Aichi Prefecture to establish an import center
● VAN Finance KK is established. This finance company issues and manages auto loans, auto leases and credit cards, and provides finance operations for dealers in Japan.
1991
● Start of construction of the Volkswagen Audi Nippon Import Center (hereinafter "Toyohashi Import Center").
At the same time a temporary import center begins operation (annual processing capability of 10,000 vehicles). ❶
● For the first time a ship docks at the VAN wharf to unload Volkswagen cars.❷
● Toyota Motor Corporation and Volkswagen AG and VAN sign distributor agreement for VW and Audi in Japan

1992
● Company headquarter moves from Minato Ward in Tokyo to Toyohashi City, Aichi Prefecture.
● The Toyohashi Import Center, one of the largest vehicle import facilities in Japan, is completed at a capital expenditure of ¥27 billion❸

1993
● The Toyohashi Import Center begins operation (total site area of 290,000㎡).
● Volkswagen sales network in Japan expands to 100 outlets.

1994
● Opening of VAN Tokyo Office in Gotanda

1995
● Volkswagen brand cumulative imports to Japan (since 1953) reach 500,000 units.

1996
● Volkswagen Audi Nippon KK changes its name to Volkswagen Group Japan KK (hereinafter "VGJ").
● Volkswagen sales network in Japan expands to more than 200 outlets.
● VGJ Tokyo Office moves from Gotanda to Akasaka.

1998
● The Audi Division, originally part of VGJ, is organized as a separate corporate body, Audi Japan KK.
● VGJ starts the Guaranteed Used Car System.
2000s
2001
● Start of Volkswagen exclusive dealer network/introduction of showroom corporate design.
2003
● Cumulative imports of Volkswagen and Audi by VGJ reach 500,000 units.

2004
● 5th generation "Golf" and "Golf Touran" win Japanese "Import Car of the Year"

2005
● Volkswagen brand cumulative imports (since 1953) reach 1 million units.
2009
●Start of introduction of Volkswagen corporate design "Modular Concept".❹
●6th generation "Golf" wins Japanese "Import Car of the Year"
2010s
2010
● Cumulative imports of Volkswagen and Audi by VGJ reach 1 million units.
● VGJ Tokyo Office moves from Akasaka to current address in Shinagawa.
● Distributor contract with Toyota terminated and unification of dealer channels completed
2012
● Certified used car brand "Das WeltAuto" starts in Japan.❺
2013
● Volkswagen commemorates 60th anniversary since beginning of official imports to Japan.
● Toyohashi Import center commemorates 20th anniversary since beginning operation.
● Cumulative imports of Volkswagen by VGJ reach 1 million units.
● 7th generation Golf is introduced in Japan and wins as the first import model the "CAR OF THE YEAR JAPAN".

2014
● Volkswagen brand cumulative imports (since 1953) reach 1.5 million units.

2015
● First Volkswagen plug-in hybrid model, "Golf GTE" introduced

2017
● Volkswagen's first EV "e-Golf" introduced

2018
● Launch of "Passat TDI" as first clean diesel engine (TDI) model
2019
● Opening of second training center at Toyohashi Import Center
2021
●The 8th generation Golf and Golf Variant were introduced in Japan, equipped with Volkswagen's first mild hybrid, and won the "2021-2022 Import Car of the Year" award by the "Japan Car of The Year".
2022
●Audi Japan K.K. is merged into Volkswagen Group Japan K.K. as surviving company.
 

Volkswagen

Group comprising 12 brands
Volkswagen began as a single-model brand with the Type 1 (Beetle) in 1938. In the 1950s, the lineup was expanded to include several models. 1965 was the start for Volkswagen to become a multi-brand group, when Auto Union, the forerunner of Audi AG, became a Volkswagen AG subsidiary. In the 1980's, Spanish Seat and, after the fall of the Berlin Wall, Czech Skoda joined the group, followed by Bentley, Bugatti, and Lamborghini in the 1990's. The integration of luxury brands in a volume brand focused group contributed to even better quality for all brands. At the beginning of the new millennium Porsche and Ducati as well as the heavy commercial vehicle brands Scania and MAN followed to join the group, which is now comprising a total of 12 brands.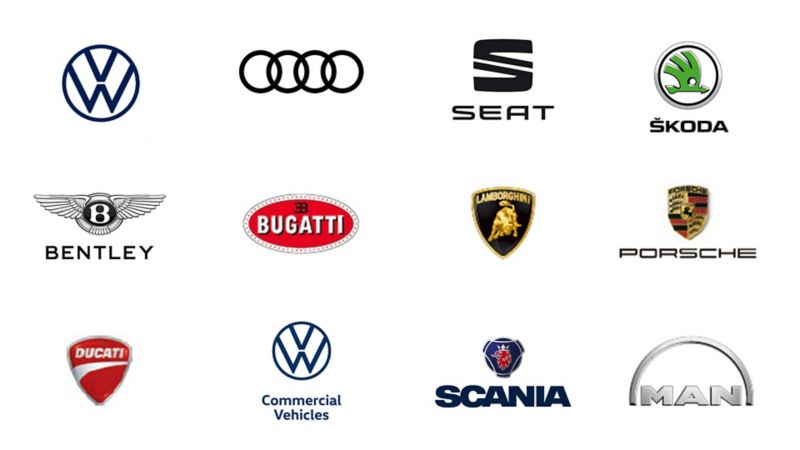 History of the

Volkswagen

Group
Post-war Recovery Period: The demand for an economically priced, inexpensively produced "Volkswagen" ("People's Car") has existed for more than 100 years. In the Germany of the 1930s, several proposals for a "Volkswagen" were exhibited at big motor shows and received a high degree of public interest. In this climate, Dr. Ferdinand Porsche started to develop a vehicle based on the "Volkswagen" concept in 1934. As the name implies, what Porsche was aiming for was "a car anyone could afford." The vehicle that was born after 4 years of hard work was known as the "Type 1". It later came to be widely adored by its nickname the "Beetle" and would leave its mark on automotive history. The Beetle was manufactured at the Volkswagen headquarters in Wolfsburg, Germany, and subsequently became the symbol of Germany's miraculous economic recovery.
In addition to the famous Beetle, there was another famous model during Volkswagen's post-war recovery period – the "Type 2" went into mass production in 1950. The idea for this vehicle started with a rough sketch by Ben Pon, the Dutch
Volkswagen importer who proposed to the then head of the company to make "a car like this." The "Type 2" was later introduced in many different variations including microbus, pickup truck, ambulance, and fire truck. All of these models were well received worldwide.
Volkswagen truly became a global company during this time. Sales subsidiaries and manufacturing facilities were established around the world in places such as North and South America, Africa, and Oceania, while a global sales network was built. In 1955, the cumulative number of "Beetles" manufactured reached 1 million and new records have continued to be set since.
Volkswagen became a stock company (AG) in 1960 with both the German federal government and the State of Lower Saxony each holding a 20-percent share.
A new age began in 1974 with the "Golf", the successor to the "Beetle". With the "Golf", the traditional air-cooled RR (rear engine + rear drive) was changed to a water-cooled FF (front engine + front drive), the compact body was expanded to provide more passenger compartment space, a clear and ergonomic design was used for the interior, and other changes were made that had a high impact on the world's automakers and instantly made the "Golf" a major hit around the world.
In 1985, the company established the Shanghai Volkswagen Automotive Company Ltd., to become the first foreign automaker to set up in China.
In 1986, the Spanish SEAT became the 3rd Volkswagen Group brand, being followed by the Czech Skoda in 1990 after the fall of the Berlin Wall. Volkswagen implemented a range of reforms to improve quality, productivity, and profitability to survive the difficult social and economic environment of the early 1990s. Under the leadership of Dr. Ferdinand Piëch, who had become chairman in 1993, the Volkswagen Group recovered its strength. In the latter half of the decade "Best in Class" for every segment was set as a goal. The company proceeded to follow a multi-brand strategy and added the luxury brands of Bentley, Bugatti, and Lamborghini to the group.
In 2000, the "Autostadt" opened next to the Volkswagen headquarters in Wolfsburg. Visitors can experience the philosophy, values, history, and products of Volkswagen Group and its brands through various displays, projections, or driving courses and can pick up their Volkswagen Group car, which they have previously ordered at their dealer, directly from the factory. Every year approximately 150,000 cars are directly picked up from the "Autostadt" by new owners, who travel to Wolfsburg by train and return home by their new car.
With its 21,517,415th line-off in 2002 the "Golf" takes over the role of the most produced Volkswagen model from the "Beetle". In the following year the worldwide last "Beetle" leaves the production plant in Mexico.
During the 2000's the advance into the BRIC markets, which had started with Brazil in the 1950's and China in the 1980's is continuing. Production sites are to be established in Russia and India
In 2005, the 100 millionst car by the Volkswagen brand, a "Golf Touran", goes off-line. .
In 2008 the commercial vehicle brand Scania and in 2012 another commercial vehicle brand MAN joins the Group.
2012, the Volkswagen Group brands are further increased to 12, as  Porsche AG becomes a Volkswagen Group company and Ducati AG a subsidiary of Audi AG.
In the same year the MQB (Modular Transverse Matrix) , which has been developed to further standardize the   vehicle architecture, is for the first time applied in the 7th generation "Golf". 
In 2014 accumulated production by Volkswagen Group achieves 200 million units.  
2015, the manipulation of Volkswagen Group diesel engine emission data comes to light. CEO Dr. Winterkorn resigns.
His successor Matthias Mueller takes over and establishes new structures to regain trust. The Volkswagen Group long-term strategy "TOGETHER – Strategy 2025" is compiled. The Group declares to shift to e-Mobility.
In 2018 Dr. Herbert Diess follows Matthias Mueller as CEO of Volkswagen AG to further promote the implementation of the "TOGETHER – Strategy 2025".
From 2019 on the e-shift becomes substantial with the world premiere of the "ID.3" at Frankfurt Int'l Motor Show (IAA). Production of the first model based on the EV exclusive module matrix MEB starts at Zwickau Plant, deliveries from 2020.